Although many seniors may not be up to date with current technology, people of all ages want to stay connected. When it's not feasible or safe to get together in person, you can use senior-friendly technology to see how your loved one is doing from afar. And with other resources from The Gables Assisted Living, you can ensure your family member feels well cared for even if you can't be near.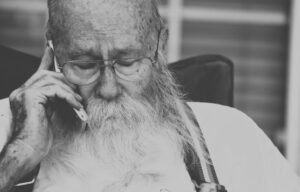 Start with the Basics
An internet-connected laptop or tablet may be the simplest way to keep in touch these days. Unlike smartphones, tablets and laptop computers have bigger screens that can help seniors see who they're video chatting with.
Even if you're on a budget, scoping out deals on popular laptops is possible if you keep an eye out for slashed prices and savings opportunities like Black Friday offers. Accessories like a wired headset can also help your senior hear you better while on voice calls and chats.
Next, a solid Wi-Fi connection is on your must-have list. But even rural areas can receive reliable high-speed internet service these days.
And finally, instructing everyone who's online about safe internet practices is essential. Identity theft scams are common, so to keep your senior safe, it's important to learn about cybersecurity and ways to protect your information.
Communicate Clearly
Whether you're instructing your loved one on how to operate a device or send a text message, communication matters. Using simple language and making yourself clear can go a long way toward easing frustrations.
The same applies to written communication, whether text messages or emails. Communicating digitally is challenging enough without body language and other cues, so keep it basic. This way, you can share with your loved one without causing confusion.
Be sure to listen, too! It's easy to take center stage when you're video chatting with a loved one. But your family members may have things to share about their hobbies and daily life, too, so make sure they get a chance to feel heard.
Schedule Reminders via Technology
For older adults who reside in a senior living community, it might not be tough to remember to take their medications each day or check in with family. But if your senior loved one is aging in place at home, they may have trouble sticking to a schedule. Fortunately, technology can help.
With a smartphone or tablet, you can download an app or set a voice assistant reminder when it's time for a medication dose. Amazon's Alexa voice assistant, for example, can set timed notifications when meds are due, highlights CNBC.
You can also create scheduled meetings or calendar items so that your loved one receives a prompt to call, email, or voice chat with you. This can help eliminate the issue of your loved one missing phone calls or having family worrying about their whereabouts or wellbeing.
Whatever device your family member uses, there is likely a handy notification feature you can activate to keep them on schedule.
Use Tracking Apps to Check In
For older adults who are living independently and even running errands solo, it can be nerve-wracking for family members who are far away. Not being able to check in can be a cause for panic, but technology offers solutions for this conundrum as well.
You can download a family check-in app to you and your loved one's devices. Then, with their permission, you can check on their location and travel history.
No matter your device type – from Android to iOS to something else entirely – there's a family connectivity app to keep you all in the loop. You can also adjust settings to ensure your loved one's privacy and independence are respected.
When you have a loved one who lives far away from you, it can be tough to keep in touch. But modern technology offers families countless opportunities for connection and virtual interaction. Especially for senior loved ones, learning to navigate this technology can be an enormous benefit to their wellbeing and comfort. If you're interested in learning more about helping your senior loved one enjoy their golden years, visit The Gables Assisted Living & Memory Care for advice and information on senior living.
Photo via Unsplash