In common speech, a nursing home and an assisted living home are used interchangeably. But the nuances and types of care provided by the two different facilities are actually quite specifically tailored to different needs. So just what are the differences between a nursing home vs. assisted living? In order to answer that question we must first define each type of facility!
A nursing home vs. assisted living is normally the highest level of care for older adults outside of a hospital. Nursing homes provide what is called custodial care, including getting in and out of bed, and providing assistance with feeding, bathing, and dressing. However, nursing homes differ from other senior housing facilities in that they also provide a high level of medical care. A licensed physician supervises each patient's care and a nurse or other medical professional is almost always on the premises. Skilled nursing care is available on site, usually 24 hours a day. Other medical professionals, such as occupational or physical therapists, are also available. This allows the delivery of medical procedures and therapies on site that would not be possible in other housing.
The label "nursing home" has negative connotations for many people. Yet nursing homes provide an important component of senior housing options. It's important to separate nursing home myths from facts.  www.helpguide.org
What Is Assisted Living?
Assisted living on the other hand is a residential option for seniors who want or need help with some of the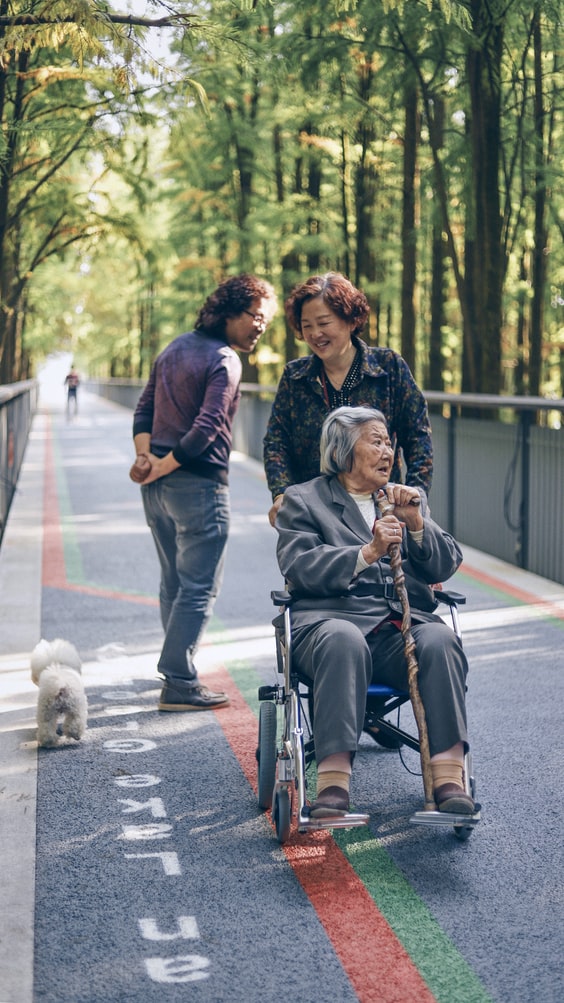 activities of daily living—things like cooking meals, getting to the bathroom in the middle of the night, keeping house, and traveling to appointments.
An assisted living facility may be a good choice if you need more personal care services than you can get at home or an independent living retirement community, but you don't need the round-the-clock medical care and supervision of a nursing home.
Assisted living facilities offer the safety and security of 24-hour support and access to care. Day or night, help is only a phone call away. However, privacy and independence are encouraged. A good facility will develop a personalized plan that meets your needs and accommodates your disabilities, while giving you the freedom to do what you can for yourself. In general, assisted living is in a residential type facility, ranging from converted homes or apartment complexes to renovated schools. Some provide apartment-style living with scaled down kitchens, while others provide rooms. In some, you may need to share a room unless you're willing to pay higher cost. Most facilities have a group dining area and common areas for social and recreational activities.
In the U.S., each state has its own specific licensing requirements for assisted living, so you'll want to check to see what services can be provided. www.helpguide.org
How To Discuss Assisted Living With Your Loved One
Helping a loved one to accept that they need more care and are no longer safe living at home is a challenge faced by many families. Many seniors are reluctant to leave their family home that is full of memories, move away from friends and neighbors, and give up their perceived "independence". While there is no magic solution for getting someone to agree on making a move to assisted living, The Gables Assisted Living and Memory Care is able to offer suggestions that may help make the conversation go as well as possible.
Start The Conversation Early, Before An Emergency
Ask your loved one about how they want to manage their care in the future. Bring the subject up in every day conversation so that it is perceived as less confrontational and provides your loved one with a sense of being the decision maker. Choose a quiet time when everyone is in a good mood such as during a meal, on the way home from church, or while taking a walk. The holidays, when everyone is together, are ideal.
Ask Open Ended Questions
Ask open ended questions to assess how your loved one is handling daily activities? For example, "How are you doing keeping up with the house?" "Are there activities that you can no longer do that you wish you could still do?" "Do you have a plan to handle an emergency, such as a power outage, fall, or accident?" "What are your daily worries or concerns as you go through your day?"
Use Affirming Terms
Assisted living homes have come a long ways and are truly a residence. Using words like "home", or "residence" rather than "facility" or "institution" may help provide a more positive and accurate depiction for your parent.
Use Third Parties & Friends
Enlist other resources to help reinforce your message. A doctor, church official, lawyer, or other trusted professional or friend can often times assist. The message may be better received coming from someone outside of the family.
Emphasize The Services
Ask if they have considered moving to assisted living as a means to simplify their life. With all of the services and amenities that assisted living has to offer, it is often helpful to discuss the attributes such as not having to perform maintenance on the house, yard work, getting balanced, nutritious meals, socialization, activities, and managing fewer bills for example. Express your wish to your parent that they be able to enjoy their life to the fullest.
Peace of Mind & Enjoyment
Along with your wish for your loved one to enjoy life, letting them know how concerned you are about their safety, health and socialization should be brought in to the conversation. If someone is not ready to move for his/her own sake, often knowing that this decision will bring you peace of mind may be the piece that helps them come to a decision. Remind them that you are happy to be a caregiver, but shifting this responsibility to the assisted living home will allow you to enjoy your relationship as a family member or friend again.
Finances
Assisted living is a significant expense. Many seniors believe that staying at home with caregivers is the more affordable option. Depending on the amount of services required to keep your loved one at home, this perception is often not accurate. Considering the cost of caregivers, home maintenance, property taxes, utilities, food, etc. – the math is often in favor of assisted living given the services provided are 24 hours a day. Reassure your loved one that you are not relying on an inheritance for you financial future. Express to them how important it is to you that they live safely and enjoyably.
Patience
Making the decision to move to assisted living can take time. It is perfectly natural for someone to feel scared, threatened, or embarrassed. For this reason, it is important that everyone involved be patient and compassionate. Allowing your loved one to make his/her own decision about assisted living alleviates guilt a child may feel about "forcing" them to move. It is the ideal situation for a person to willingly choose their next step in life.
However,  if the conversation gets uncomfortable or confrontational, take a step back. Wait if you can – then try to approach the situation again. Patience and timing are key. Once your loved one has reached acceptance, tour multiple homes to ensure you find the right fit that will meet not just their medical needs, but their personal preferences as well. Find a place that your loved one will be happy to call home. Touring together and offering choices is a further step to ensure your loved one is excited and positive about the decision.
For more information on how to discuss assisted living with your loved one, please contact the Gables home nearest you. 
Choosing The Right Assisted Living Home
Choosing the right assisted living home is one of the most difficult, but important decisions that you will ever make. Each person has their own personal needs and preferences. A key factor in finding the right assisted living home includes considering those personal needs and preferences. To help our potential residents and their families feel confident with the choice they make, we offer the following guidance as they look into the different options available to them:
Tour more than one home.
Look into the different options available in your area. It is helpful to visit multiple homes as it will help you to be able to compare homes and see the different services and amenities that each home has to offer.
Does it feel homey to you?
The most important factor to consider when choosing an assisted living home is if it feels friendly, safe, and comfortable. Do you prefer a small, cozier environment or would you rather be in a larger, busier place?
What are the dining options?
 Ask if you can join them for a meal? Does the food look appealing to you? Does it have good flavor? Can you dine in the privacy of your own room if desired?
What activities are offered?
Do the activities being offered interest you?
Discuss what care you or your loved one would require.
Is the home capable of providing consistent, quality care and supervision? Although all assisted living homes are licensed to be able to provide the same type of care as each other, size, staffing, and levels of care are all things to consider.
How are changes in condition handled?
Ask about how the home manages emergency and non-emergency medical situations? If your condition changes, will you be able to remain in the home? At what point would you be required to move elsewhere for medical care?
Does the home have a good history of meeting state and local licensing requirements?
Check the state regulatory agency's website. The survey history and complaint history for each home is available to the public. If a home has a history of non-compliance, feel free to ask them about their survey(s) and definitely take this information into consideration as you are making your decision.
Trust your gut.
It is important to trust your instinct and not make a decision based on which home is the newest or biggest or offering the best discount. As you arrive for your tours and enter each home, stop and look around you. Smell. See. Look. Feel. Are the residents happy? Are the staff happy? Is the manager engaged and personable? Is it clean? Well maintained? Does it smell good? Can you picture yourself or your loved living there?
The Gables Assisted Living and Memory Care offers assisted living as a residential option to seniors who want or need help with some or all of the activities of daily living. We offer safety and security while providing 24-hour care to our residents. The Gables develops personalized care plans for each of our residents to meet their needs and accommodate different conditions and preferences, while encouraging them to remain as independent as possible, for as long as possible. Our assisted living services include, but are not limited to:
Three nutritious meal each day

Assistance with eating, bathing, dressing, going to the bathroom, and walking.

Housekeeping services

Scheduled transportation

Access to health and medical services

Around the clock security

Emergency call system with personal pendants

Exercise and wellness programs

Medication management

Laundry services

Social activities

Staff available to assist with scheduled needs, as well as unexpected issues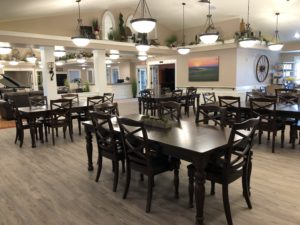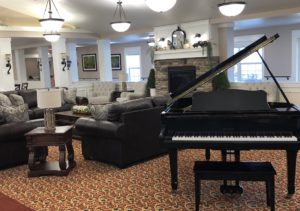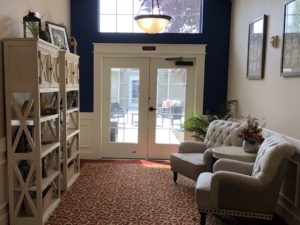 The Gables Assisted Living trains their employees in Memory Care Needs.
Supporting a Loved One As They Move To Assisted Living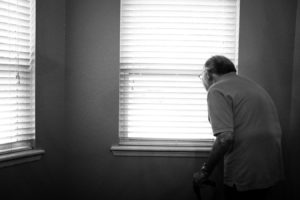 Even when your loved one has willingly agreed to move to assisted living, making the move can still be stressful for everyone involved. The Gables Assisted Living and Memory works closely with our residents and their families and support systems to help make the transition easier. In addition to the support that our compassionate team offers, we can also offer the following suggestions:
Acknowledge Your Loved Ones Feelings of Loss
Feelings of loss and grief are common when someone moves from their home to assisted living. Try not to minimize their feelings. Sympathize and respect their feelings and give them time to adjust.
Call and Visit Often
Regular contact from family members and friends is extremely important. Reassure your loved one that they are still loved and cared for by calling and visiting often. Continue to include them in family events whenever possible. If your loved one lives far away, send letters and pictures and call often.
Work Through Concerns Together
If your loved one expresses concerns, hear them out and take them seriously. Allow them express their grievances and to participate in the conversations with the home to be part of finding a solution to any legitimate concern.
Help Them Feel At Home
Allow your loved one to bring personal items and decorations that will help them to feel more at home. If possible, try to recreate their favorite room from their home by hanging pictures on the wall as they were at home and arranging furniture and other decor similar to how it was at home.
Be positive
A smile, support, patience, and understanding will help your loved one in more ways than one.
Resist The Urge To Take Over
Try not to make all of the decisions or take over the sorting, packing, and moving process. Allow your loved one the opportunity to make decisions and take the lead in the process if they desire to do so.
Do Not Immediately Discuss Selling Their Home
Your loved one is already dealing with an overload of emotion and change. Hold off discussing selling their home until they have completely transitioned and are ready to have that conversation.
For more information on how you can support your loved one as they make the move to assisted living, contact the nearest Gables location to you.
Memory Care is a specific form of long-term care that caters to individuals with Alzheimer's disease, dementia, and other kinds of memory loss challenges. As the mind deteriorates, a person suffering from memory loss will eventually become unaware of their condition. They will require the help of other people to stay safe and remain physically and mentally active. They will need help and support with thinking, making decisions, and completing the activities of daily living. For these reasons and more, dealing with memory loss can have a significant impact on the lives of families and loved ones. It is important to have a strong support system in place for your loved one that includes specially trained professionals that can provide around the clock supervision and assistance.
Though many families would like to keep their aging loved ones comfortable at home during this time, assisted living becomes the safest option. As more and more people are being diagnosed with memory loss conditions, memory care has become one of the most important services that we provide here at The Gables Assisted Living and Memory Care.
---
Keeping a person active in hobbies and interests that gave them pleasure in the past is important after a disease diagnosis. The Gables realizes the importance of creating meaningful memory care activities, not just ones that fill time. Alzheimer's affects behavior and senses in addition to memory. Certain activities may work better at different times of day. Our Memory Care Room offers different activities and stations that help our residents feel a sense of accomplishment. We also have safe outdoor areas with raised flower beds and gardens that our residents can help plant and tend. At The Gables, we concentrate on the process of a memory care activity, not the results. It does not matter if we never get the puzzle put together. What matters is that our resident enjoyed the time spent on it and felt useful.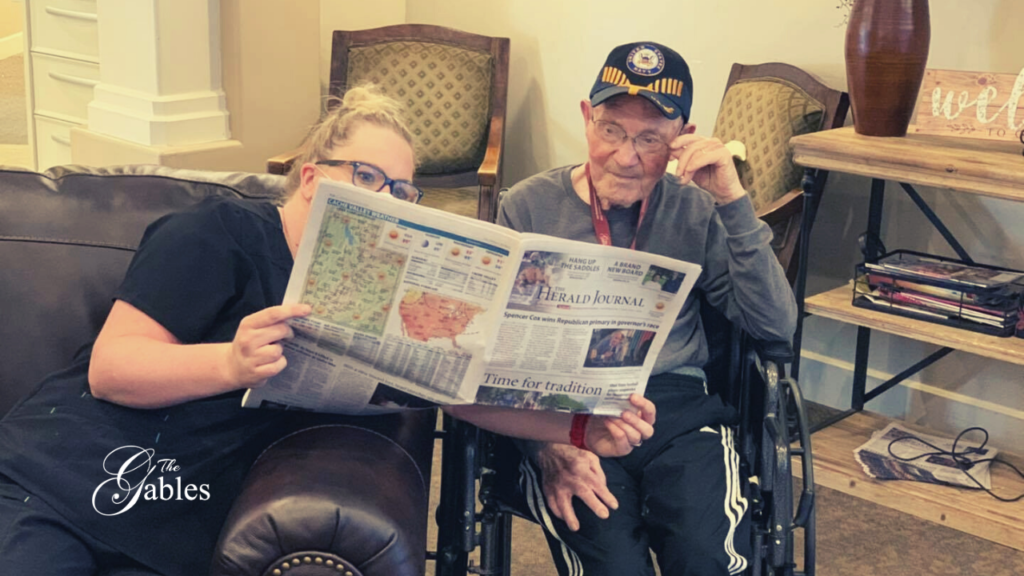 At The Gables Assisted Living and Memory Care we understand the importance of offering short, temporary stays where someone can receive care while also enjoying a warm, welcoming environment. Our respite and hourly adult care guests receive with the same level of compassion and commitment as our full-time residents.
Hourly Adult Care Program – For those caring for an elderly loved one in their own home, The Gables Assisted Living and Memory Care offers hourly adult care services. This allows the caregiver time during the day, while their loved one enjoys activities, social interaction, and any needed assistance.
Respite Stays – The Gables Assisted Living and Memory Care communities have availability for short-term guests when their caregiver needs to travel for a few days or weeks, or simply needs a short break in routine. This is also a great way to find out if the community is the right fit for your loved one.
For more information on our respite services and adult daycare program, please contact the nearest Gables location to you.
---
The Gables Assisted Living and Memory Care
works hand in hand with outside service providers to provide home health services to the residents in our communities.
Most times, home health makes it possible for a resident to receive the skilled nursing care they need without a long term hospitalization or stay in a skilled nursing center. Home health care is a wide range of health care services that can be given in your home or in a residential care community for an illness or injury. Examples of skilled home health services include:
Occupational Therapy

Physical Therapy

Speech Language Pathology

Home Care Aides

Medical Social Services

Wound care for pressure sores or surgical wounds

Patient and caregiver education

Intravenous or nutrition therapy

Injections

Monitoring serious illness and unstable health status
---
Doctor's orders are needed to start care. Once your doctor refers you for home health services, you will choose the agency you would like to work with, and the home health agency will schedule an appointment to come talk to you about your needs and ask questions about your health. The home health agency staff will also talk to your doctor about your care and keep your doctor updated about your progress. It's important that home health staff see you as often as the doctor ordered.
Upon admission to home health, Gables and the home health agency will coordinate care plans to ensure that every aspect of your care is covered. Coordination of cares and communication are extremely important between Gables and our outside service providers. We meet with our home health agencies regularly to discuss care plans and set goals to help our residents recover quickly and become as self-sufficient as possible.
---
The goal of home health care is to treat an illness or injury. Home health care helps you get better and regain your independence. Some benefits of home health include:
Convenient, regular visits without having to leave home

Quicker recovery time at home versus a long term hospitalization or stay in a skilled nursing home facility

Receive skilled care in the privacy of your home versus an office or exam room

Comfort of being in a safe, familiar place
---
Typically all costs are paid by Medicaid or Medicare in full. In most cases there are no out of pocket costs for home health or hospice, but it depends on your insurance. If your doctor or referring health care provider decides you need home health care, they should give you a list of agencies that serve your area, but must tell you whether their organization has a financial interest in any agency listed.
For more information on home health services, contact the Gables location nearest you.
---
At The Gables Assisted Living and Memory Care we welcome hospice patients and work hand in hand with our local hospice agencies. Together we coordinate as a team to provide consistent, supportive care to our residents and their families in the final phase of a terminal illness, specifically focusing on comfort and quality of life. Hospice involves acknowledging that most diseases in their advanced form cannot be cured. It does not mean giving up hope. The focus of hope shifts towards providing physical comfort and peace of mind to our resident and their loved ones.
---
Hospice care is provides supportive care to people in the final phase of a terminal illness. It's main focus is on comfort and quality of life, rather than a cure. The goal is to enable patients to be comfortable and free of pain, so that they live each day as fully as possible. Hospice looks at all the patient's and family's needs. A coordinated team of hospice professionals, assisted by volunteers, works to meet the patient's and family's emotional and spiritual needs, as well as the patient's physical needs.
Hospice recognizes that a serious illness affects the entire family as well as the person who is ill. The family, not just the patient, is the "unit of care" for hospice professionals. Sometimes other family members actually need more attention than the patient.
---
Hospice includes the services of a team of health care professionals: Physicians, nurses and certified nurse's assistants, social workers, chaplains and spiritual counselors, bereavement coordinators, and volunteers to provide companionship and emotional support in different ways.
It also provides medications, medical equipment and supplies necessary to promote comfort at home or in other hospice settings! Furthermore hospice staff are available by phone at all times, 24 hours a day, 365 days a year.
---
Most insurance plans, including Medicare and Medicaid, pay for Hospice care with few out-of-pocket costs to the patient. The Medicare hospice benefit covers costs related to the terminal illness, including the services of the hospice team, medication, medical equipment and supplies. Medicare reimburses for different levels of hospice care recognizing sometimes patients require special attention.
Medications – The Medicare hospice benefit covers medications needed to treat the patient's terminal illness. Generally, hospice providers will order medications for you, and you can get them from the pharmacy or arrange for delivery. Medications for a condition not related to the terminal illness – allergy medication for example – are not covered by the hospice benefit.
Medical supplies – The physician and nurse will work with the family to determine which medical supplies and equipment the patient needs. Again generally most hospice providers will order the equipment and have it delivered to the home.
---
After a diagnosis of life-limiting illness, patients and their families should consider their choices for care. A patient does not have to be bed-bound or critically ill to receive hospice care. The Gables Assisted Living and Memory Care is happy to help get you and your loved ones in contact with a local hospice representative in your area. For more information, contact the nearest Gables home to you.
---
A physician must certify that a hospice patient has an illness and an estimated life expectancy of six months or less if the illness runs its usual course. The patient must agree to hospice care. Generally, most hospice providers accept everyone who meets those criteria, regardless of the patient's financial situation or insurance coverage. 
Active Living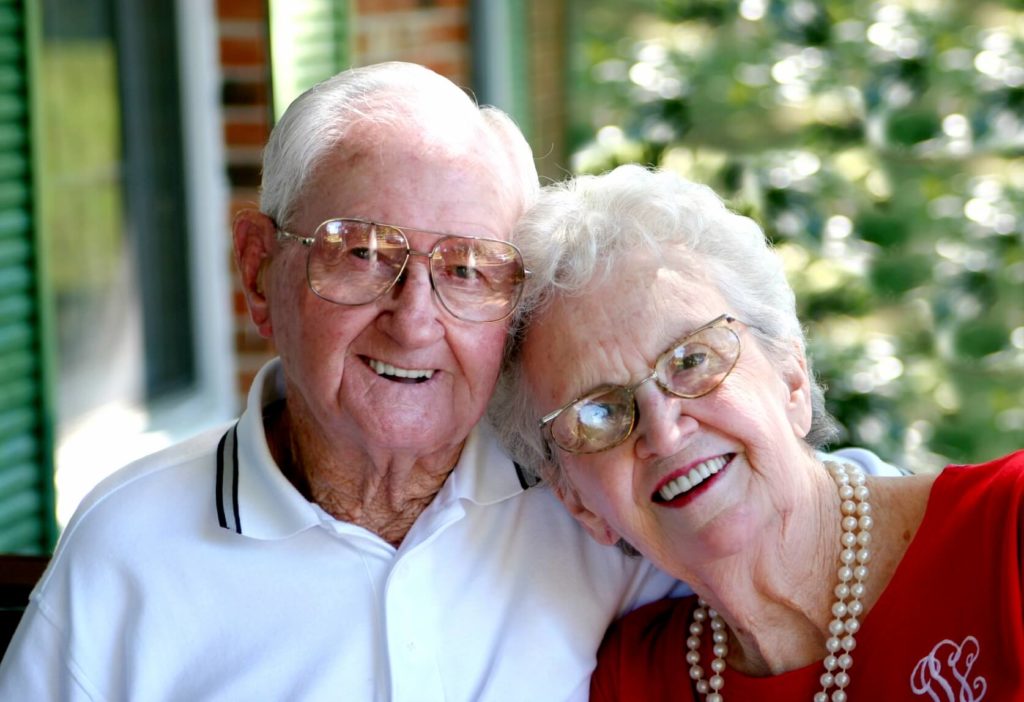 At Gables Assisted Living and Memory Care the choice is yours. You are free to choose how many or how few of the activities you wish to enjoy. We cross-train our entire team to help facilitate activities each day. We encourage our residents to participate in a variety of meaningful activities to help them stay physically and cognitively strong. From music therapy to arts and crafts, we aim to offer our residents many opportunities to remain active and involved. The Gables works closely with community volunteers and other local organizations who offer to come into our homes to entertain and spend time with our residents.
Cognitive activities support and maintain memory and brain fitness. Memory games, brain teaser exercises, reminiscing, and current events are just a few cognitive activities we offer at The Gables.
Fitness and wellness activities focus on improving strength, functional endurance, flexibility, and overall physical wellness. Regularly scheduled fitness and wellness activities include the Fit & Fall Proof exercise program and other low-impact strengthening, balance, and flexibility exercises, Wii Fit bowling, and Walking Clubs, among others.
Music programs, pet therapy, poetry, book clubs, gardening club, Bible studies, and religious services are just a few of the spiritual and life-enriching activities that Gables has to offer.
Our monthly activities calendar identifies the various activities and events planned for the residents of our community. We also send out a monthly e-newsletter that includes information about upcoming activities each month.
Families and friends are always welcome to join us for activities. The more, the merrier!
To see a full activities calendar and newsletter for each Gables location, visit our blog!