Brigham City, Utah Memory Care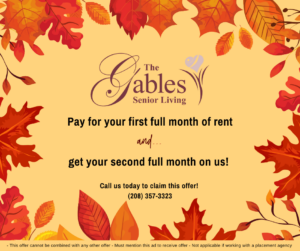 Brigham City is full of small town charm that makes this community special. Included in this quaint community of tree lined streets, you will find The Gables of Brigham City Assisted Living.
Here you can enjoy the comforts of home, while also receiving excellent service and quality care. We offer personalized care for each individual resident. From three home cooked meals a day, to regularly scheduled activities, to a quiet afternoon on the patio, and more. The Gables of Brigham City is the ideal combination of home like living spaces that allow our team members to care for our residents. Not only do we want their care needs met but have amenities to promote our resident's health and well-being. We know that having activities to look forward to and having a chance to be social can make a big difference in their day to day lives. It is our goal to consistently meet the personal preferences and needs of each resident to ensure that their stay is beneficial and enjoyable for them.
We are regarded as a premiere assisted living in Northern Utah because of the relationships our dedicated team has with our residents and their families. Our staff is passionate about delivering excellent care and truly wants to see our residents flourish within our walls. When you enter our warm, comfortable home, you will immediately know there is something special here. Schedule a tour today! Come experience senior living at its best!
Common Memory Care Challenges We Serve
Alzheimer's disease, dementia, and other memory challenges are extremely common. At the Gables, we know people struggling with memory loss requires an extra level of attention and care. We have designed a beautiful facility to address the unique needs of our residents. Our facility has extra levels of safety and security to make sure the residents are safe at all times even for those that like to wander. Our staff has qualified training and education on memory care so they can deliver care with compassion. Whatever struggle your loved one may be facing, you should give us a call, schedule a time to tour our facility and see if the Gables can't provide you with the assistance you need. We are always happy to answer any questions you may have about our facility and what it can provide for your loved one.